Bulk Bonanza HMPK Wholesale
Prepare to embark on a visually breathtaking journey as you explore our exclusive "Bulk Bonanza HMPK Wholesale of Multicolor Fancy Candy, Galaxy Betta Salamander BF " collection.
Specially curated for the discerning aquarium enthusiast, this offer presents a rare opportunity to transform your aquatic display into a hypnotic underwater rainbow.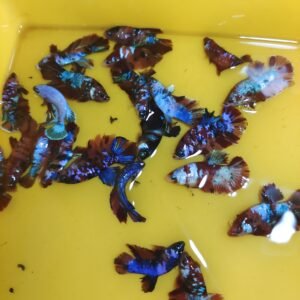 Dive into the mesmerizing world of Betta fish, where each Halfmoon Plakat (HMPK) is a vibrant masterpiece of nature, flaunting a unique blend of colors and patterns. The HMPK, renowned for its shorter, round tail, offers a distinctive twist on the traditional Betta fish silhouette, providing an extra dash of aquatic charm.
1 MALE FISH= RM15
10 MALE  FISH = 10 X RM8 = RN80
Just Add to Cart the quantity you want to order. Get 10 then the price will be RM80   
[wcj_product_wholesale_price_table]
If you wish to mix it with different strains 10 pcs. Just leave a note in your order or drop us a line.
Our multicolor variants bring you the excitement of the entire color spectrum, each swimming with a riotous blend of hues that shift and shimmer with movement. The fancy candy variety is a visual treat, boasting rich, pastel colors that pop against the aquatic backdrop like confetti at a party.
But the real showstopper in this collection is the Galaxy variant. With scales that echo the star-studded night sky, these Bettas exhibit a celestial beauty that can't be found in any other freshwater species. Speckled with spots of white against a dark-hued body, each Galaxy Betta truly resembles a miniature universe.
Take advantage of our bulk purchase offer and enjoy a variety of these fascinating creatures at an unbeatable value. Ideal for hobbyists, breeders, or pet store owners, this collection delivers an :rray of visual delight and promises a captivating underwater spectacle.
Don't miss the chance to invite a burst of color, a sprinkle of stardust, and a universe of wonder into your aquarium with our "Bulk Bonanza HMPK Wholesale of Multicolor Fancy Candy, Galaxy Betta Salamander BF ". Order now to enchant your underwater world!
Bulk Bonanza HMPK: Multicolor, Fancy Candy & Galaxy
Bulk Bonanza HMPK: Salamander Butterfly
This bulk collection is not just about quantity but also quality. We ensure that each fish is carefully bred, selected, and conditioned to arrive in optimal health, ready to bring vivacity and vibrancy to your aquarium.
Our "Bulk Bonanza HMPK Wholesale of Multicolor Fancy Candy, Galaxy Betta Salamander BF " is a testament to the diversity and wonder of aquatic life. This bulk purchase offer is an investment in beauty, joy, and the endlessly fascinating world beneath the water's surface. You can check out long fin version – Halfmoon .
Transform your aquarium. into a living art piece and witness the delightful dance of colors and patterns with each new day. Dive into the world of Bettas with our bundle offer, and let your underwater paradise flourish!