Unleash a Tsunami of Nutrition with Our Pioneering 6-in-1 Chlorella Ingredients Bundle!
Immerse yourself in the world of advanced aquatic pet nutrition with our exclusive, transformative 6-in-1 Chlorella Ingredients Bundle, meticulously crafted for cultivating the perfect live fish food: Moina. This is not just a nutrition solution—it's a revolution that will redefine your aquarium's ecosystem!
Our 6-in-1 bundle is a result of intensive research and careful selection of the best ingredients to support the prosperous cultivation of Moina. But why Moina, you ask?
Well, Moina is a superior food source for your aquatic pets, rich in protein and easier to digest, boosting your fish's vitality and enhancing their stunning colors.
Here's how our 6-in-1 Chlorella Ingredients Bundle works:
1. Produce Chlorella Water in Just a Week:
Forming the cornerstone of the bundle, the Chlorella water is a nutrient-rich foundation, teeming with essential vitamins and minerals. This potent mixture is easy to create, bringing you a step closer to a self-sustaining aquarium ecosystem within a week. It offers the perfect platform for healthy Moina to flourish, paving the way for their journey from tiny organisms to a nourishing meal for your fish.
2. Cultivate a Plentiful Culture of Microorganisms:
During the culture period, a robust population of beneficial microorganisms is nurtured. These microorganisms serve as an essential food source for the Moina, providing them with the variety of nutrients they need for a well-rounded diet. This ensures your Moina are at the peak of their health before becoming a top-tier meal for your aquatic companions.
3. Implement an Essential Mineral Mix:
Our blend is precision-formulated and rigorously tested to provide the ideal balance of minerals necessary for Moina to thrive. The Essential Mineral Mix guarantees optimal growth and development of Moina, leading to the production of hearty and resilient live fish food that your fish will love.
4. Enhance with a Probiotic Blend:
Boost the digestive health of your fish with our specialized Probiotic Blend. This scientifically concocted combination of beneficial bacteria supports a healthy gut flora in your aquatic pets. It optimizes nutrient absorption and fortifies their immunity, contributing to their overall well-being.
Experience the Unforgettable Advantages:
Simplified Moina Cultivation: Cultivating Moina can be challenging, but with our 6-in-1 Bundle of Chlorella Ingredients, the process is as straightforward as it can get. Whether you're a beginner aquarist or a seasoned pro, our kit makes raising healthy Moina a walk in the park.
Unmatched Quality: Our ingredients are sustainably produced and stringently selected, prioritizing premium quality above all else. This ensures your underwater ecosystem gets the highest quality live fish food.
Remarkable Fish Vitality: Notice a significant boost in your fish's energy levels, striking color enhancements, and overall happiness. The superior nutrition provided by our bundle will make your aquarium the talk of the town!
Invest in our revolutionary 6-in-1 Chlorella Ingredients Bundle today and witness firsthand the spectacular transformation it brings to your aquatic pets. This isn't just another product; it's a revolutionary shift in aquatic nutrition.
Are You Ready to Bring the Ocean's Bounty to Your Aquarium?
So why wait? 🛒 Order our 6-in-1 Chlorella Ingredients Bundle NOW and bestow your fish with the ultimate live food experience they've been waiting for!. Dive in! 🐟🌱
Contact us if you don't receive these free Videos after purchase and we will provide you with the tutorial videos!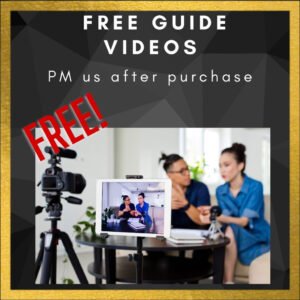 WHAT'S MORE? Ask for our special Farm raised MOINA starter stock for FREE. It is proven different from wild-caught and much easier to culture.
Bundle Items
6 ITEMS THAT YOU WILL RECEIVE for growing Chlorella. When Chlorella is successfully cultured, the Moina culture will follow.
1️⃣Defatted Rice Bran > 1.2kg
2️⃣Urea dan NPK fertilizer 300g
3️⃣Chlorella 500ml
4️⃣Effective Microorganisms 4 350ml
5️⃣Dolomite 50g
6️⃣Fish Meal powder 60g
Culture green water step by step
For the 10L water tank
👍One capful or one tablespoon of fertilizer
👍2 soup spoonfuls of rice bran
👍1/2 teaspoon of fish meal
👍1/3 teaspoon dolomite
👍1 capful EM no4
👍Exposure to Sunlight / Lighting
MOINA CULTURE STEP BY STEP
1. Green water culture, follow the steps mentioned above.
2. 5 to 7 days, the green water should be ready for the Moina starter to go in.
3. When green water is getting visibly thin, feed rice bran water once every 2 to 3 days. Don't overfeed, just make the water a little cloudy.